"We are rightly critical when assessing the state of the protection of civilians, for there is great cause of concern", he said. 
The UN chief walked members through 20 years of progress, saying that a "culture of protection" had indeed "taken root" that encompasses a comprehensive framework based on international law, and becoming one of the peace and security body's "core issues".  
Also, in the plus column, he credited deploying specialist advisors in peace operations and reinforcing humanitarian agencies' work to strengthen child protection and help shield all civilians from "loathsome acts of sexual violence in conflict". 
Mr. Guterres added that monitoring and reporting grave violations against children in conflicts and engaging with warring parties "has led to the demobilization and reintegration of thousands of children".   
Moreover, he continued, Security Council resolutions on the protection of medical care in armed conflict and on conflict and hunger "have given important focus and urgency to these issues".  
Security Council-mandated UN peace operation successes:  
South Sudan – nearly 200,000 internally displaced people currently shelter in protection of civilians' sites.  
Central African Republic – the UN mission supports local peace and ceasefire agreements that are monitored by civilian and military components.   
Afghanistan – recording UN civilian casualty figures has led to the adoption of measures by pro-Government forces to minimize harm.  
Syria – Millions of civilians receive cross-border humanitarian assistance.  
From Cambodia to the former Yugoslavia, war criminals have been tried and convicted.  
Civilians: 'Vast majority' of casualties  
Despite these advances, grave human suffering is still being caused by armed conflicts and lack of compliance with international humanitarian law and "civilians continue to make up the vast majority of casualties", Mr. Guterres flagged. 
In 2018, UN records revealed that more than 22,800 civilians in Afghanistan, Iraq, Mali, Somalia, South Sudan and Yemen were killed or injured. 
2018 – another year of violence and displacement 
Some 1.4 million people newly displaced across international borders. 
Around 5.2 million people internally displaced. 
705 attacks against healthcare workers and facilities in eight conflicts, killing 451 and injuring 860, according to the World Health Organization (WHO).  
Close to 370 aid workers kidnapped, wounded or killed.
And a new wave of shelling and airstrikes against hospitals, schools, markets and camps for displaced people in northwest Syria's Idleb has killed and wounded civilians, causing widespread panic. 
Mr. Guterres spelled out that in all conflicts, "when explosive weapons were used in populated areas, 90 per cent of those killed and injured were civilians".  
What's more, persistent violence against humanitarian and medical workers and facilities along with widespread access constraints continue to jeopardize civilians in need. 
"Chief among our challenges is enhancing and ensuring respect and compliance for international humanitarian law in the conduct of hostilities" bemoaned Mr. Guterres. 
"In many cases, our information suggests that respect for those bodies of law is at best questionable", he stated, while in others "we have witnessed blatant violations". 
He stressed the need for better accountability by closing the gap between serious violation allegations, their investigation and prosecution. 
To do this, the Secretary-General cited his own report on the issue. First, he urged that clear national policy frameworks be established to protect civilians in armed conflict; secondly, that humanitarian organizations engage with non-State armed groups to negotiate safe and timely humanitarian access; and finally, that accountability be ensured for serious violations. 
"We also need action at the global and multilateral levels" Mr. Guterres said, signaling that the Council must be "more consistent" and comprehensive in addressing protection concerns "within and across different conflicts".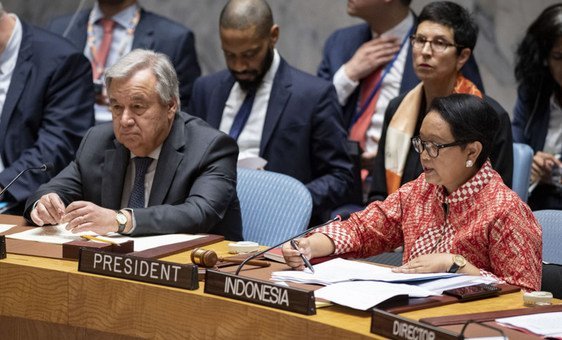 The UN chief also said that Member States, UN actors and civil society must sustain implementation.  
"For, as bleak as the current state of protection is, there is considerable scope for improvement if we each do our utmost to promote and implement the rules that bind us to preserve humanity in war", Mr. Guterres said.  
ICRC to Council: Support humanitarian law 
For his part, Peter Maurer, President of the International Committee of the Red Cross (ICRC), acknowledged that while political consensus is difficult, "we ask you [the Council] to be clearer in your support for the respect of international humanitarian law – and in stating and following through on the simple truth that no one is above the law and no civilian can be excluded from protection". 
Chairing the meeting, Indonesia's Minister of Foreign Affairs, Retno Marsudi, said that the 20th anniversary commemoration should serve as a reminder not only of our political commitments, but also, of "our duties to implement those commitments".  
Recalling the UN Charter's mission to ensure the primacy of human safety and security she underscored: "We cannot afford to let our people down".